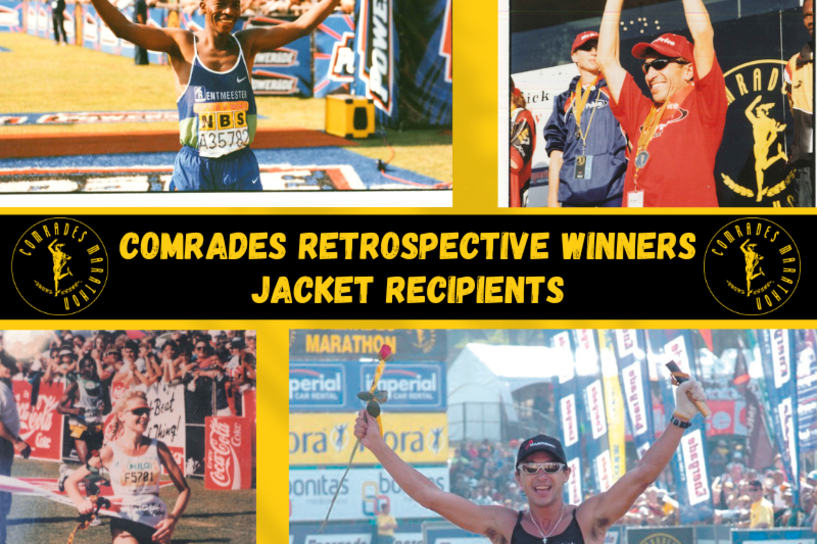 COMRADES RETROSPECTIVE WINNERS JACKET RECIPIENTS
The Comrades Marathon Association (CMA) initiated the awarding of Winners Jackets to male and female winners of the race in 2015 with that year's Champs, Gift Kelehe and Caroline Wostmann, being the very first recipients of the grand acknowledgement.
2016 saw the retrospective awarding of Winners Jackets to three previous winners at the official Comrades race day prize giving ceremony; with this becoming a celebratory facet to race day festivities until all surviving former Comrades Marathon winners have been honoured with their very own Winners Jackets.
Four remarkable individuals will be proudly acknowledged at this year's prize giving ceremony at the Hollywoodbets Kingsmead Stadium on race day, Sunday, 11 June 2023. They are Vladimir Kotov, Tilda Tearle, Andrew Kelehe and Oleg Kharitonov, each of whom in their own right, has made their mark on The Ultimate Human Race.

Vladimir Kotov
Vladimir Kotov was born on February 21, 1958, in Dolzha, Belarus. He started competing in long-distance running in the late 1970's and represented the Soviet Union in the marathon event of the 1980 Summer Olympics in Moscow where he finished in fourth position.
Holding Comrades Green number 39358, he has successfully completed the Comrades 15 times with 3 wins and 7 gold medals to his name. His Up Run in 2000 set a new best time of 5:25:33 at the age of 42. He still holds the best times in the Veterans category for his 2000 run and the Masters category for his 2008 run of 5:48:42.
Tilda Tearle
Comrades Marathon Legend Tilda Tearle is the holder of Triple Green Number 5701. Having won in 1993, she also has three gold medals, seven silver, 13 bronze, one Bill Rowan and 6 Vic Clapham medals. Her total of 30 Comrades medals makes her one of only five women to have achieved their triple laurels.
Tilda is iconic. With her blonde pigtails and never-ending smile on route, she became the darling of Comrades runners and supporters alike.
While she may be retired from running the race, Tilda is still a valuable member of the Comrades family assisting at the Green Number Club on race day by presenting Green Number and motivating runners.
Andrew Kelehe
Born in Sekhing village in Taung, North West Province on the 4th of April 1965, this humble, hard-working policeman started his Comrades journey in 1996 finishing in 30th position as a novice. Andrew then went on to complete the Comrades Marathon a total of 14 times, earning his Green Number 35782. Andrew sports phenomenal statistics with 10 gold medals and 4 silvers, including his spectacular win in 2001.
His 2001 win made him only the third black man to have won the Comrades since the lifting of race and gender restrictions in 1975.
Oleg Kharitonov
Russian born Comrades winner Oleg Kharitonov started out his career as a long-distance skier but got a taste for running when he would run to and from his job as a physical education teacher, covering 20km a day.
Being the holder of Green Number 49673, Oleg is still an active runner in the Comrades. He has successfully completed the great race 13 times and going for his 14th Comrades finish this year. He is the 2006 winner of the race and holds a further 7 gold medals and 6 silver. He continues to run sub 7 hour races and has claimed his age category prize for the last 3 races he completed.