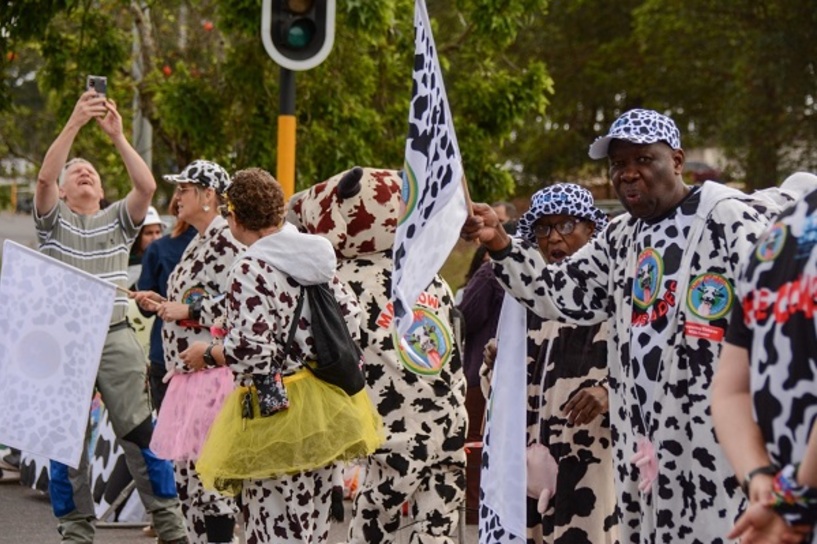 AMABEADIBEADI CHARITY DRIVE OCTOBER 2022
After 75 years of enormous support from people of South Africa, CMA decided it was time to put something back into the communities that had been graciously supporting the event since its inception in 1921.
The Amabeadibeadi Charity Drive was thus born. Since 1996, the Comrades Amabeadibeadi Charity Drive have raised over R62-million for worthy causes through donations, the Race4Charity initiative and the generosity of Comrades runners, supporters, volunteers, sponsors and partners.
Through Amabeadibeadi, the CMA supports six different charities whose primary objectives are philanthropy, environmental awareness and social well-being. These organizations are all doing incredible work to help others and improve lives in different sectors of life such as health, welfare, education, sport, environment, etc.
There are six Official Comrades Charities at the moment: Childhood Cancer Foundation South Africa (CHOC), Community Chest of Pietermaritzburg and Durban, Hillcrest Aids Centre Trust (HACT), Hospice Association of KwaZulu-Natal, WildTrust and Rise Against Hunger.
Childhood Cancer Foundation South Africa (CHOC) - CHOC advocates for the health and well-being of children and teenagers diagnosed with cancer or life-threatening blood disorders and their families. Their passionate and dedicated staff and volunteers of CHOC aim to save lives through early detection and comprehensive support programmes for the families affected by cancer. They offer psychosocial, emotional and practical support as we augment the different medical fraternities.
Community Chest - The Pietermaritzburg and Durban Community Chest is a not-for-profit organisation that is committed to raising and distributing funds in a well organised manner, to organisations that meet the social welfare, education and health needs of the community. They aim to meet the social responsibility needs of all donors and strive to create a stimulating environment for all volunteers and staff, for personal growth and self-fulfilment.
Hillcrest Aids Centre Trust (HACT) - HACT is dedicated to saving and transforming lives. As one of the first NGO's in South Africa to respond to the HIV/AIDS epidemic, HACT has established a reputation for making a significant and meaningful impact on the lives of people affected by the disease. They are tackling HIV/AIDS through holistic and family-centred interventions including education, prevention, community empowerment, income generation and HIV/TB/cancer care.
Hospice Association of KwaZulu-Natal - Hospice Association of KZN comprises of 19 Hospices, each unique and diverse, but working towards a common goal of serving the needs of the most vulnerable communities by providing quality care and support to people living with life-limiting illnesses, which include cancer, HIV/AIDS and TB. These Hospices stand as a beacon of hope and comfort to thousands of people and their families. They organise nurses and caregivers, doctors and social workers who are mobilised to provide care at the patient's homes.
Rise Against Hunger - is growing a global movement to end hunger by empowering communities, nourishing lives and responding to emergencies. Rise Against Hunger Africa (RAH) is a volunteer-based meal packaging and results-oriented nutrition programme which was started in South Africa in 2009. There are currently four full-time operations in Johannesburg, Cape Town, KwaZulu-Natal and East London.
WildTrust - The work of the WILDTRUST is actioned through its two core programmes, WILDOCEANS and WILDLANDS.
WILDLANDS focuses on conserving terrestrial biodiversity, empowering and uplifting communities through training as well as the protection of wildlife.
WILDOCEANS focuses on marine conservation, advocating for healthy oceans, marine protected areas and the conservation on marine species. Furthermore, WILDOCEANS conducts extensive research and training for future marine experts and policy makers.
The spirit of the Comrades Marathon is said to be embodied by attributes of camaraderie, selflessness, dedication, perseverance and ubuntu which simply means humanity towards others. You can also show the spirit of ubuntu by donating to any of our official charities.
For details on how to donate or information on obtaining a Section 18A SARS tax certificate, please email sifiso@comrades.com