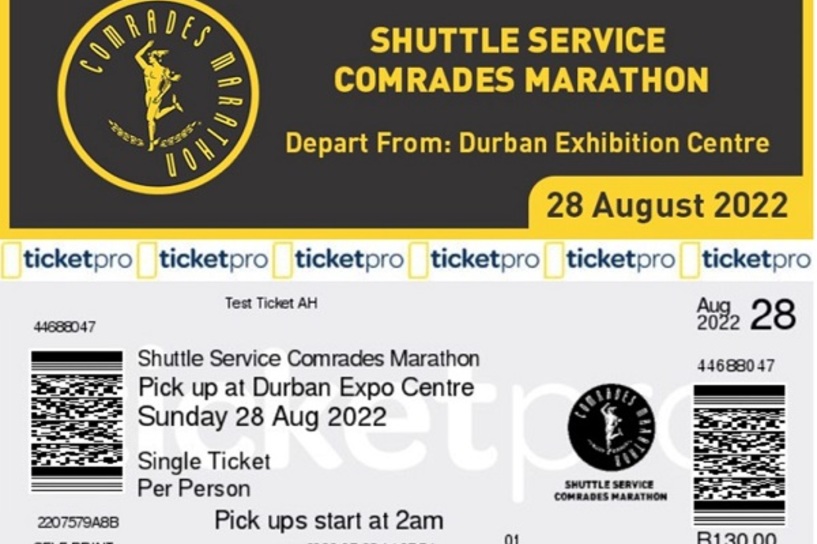 COMRADES MARATHON SHUTTLE SERVICE TICKETS NOW AVAILABLE
Comrades race month is upon us and in a few weeks, all roads lead to the start of The Ultimate Human Race outside the Pietermaritzburg City Hall.
Due to ongoing roadworks along the N3 highway, the Comrades Marathon Association (CMA) has advised runners to be mindful of traffic delays between Durban and Pietermaritzburg; and to make the necessary arrangements to ensure that they are on the start line in time for the 5:30am race start.
In an effort to minimise the number of vehicles heading to the start on race morning from Durban and to provide safe and affordable transport to all athletes staying in Durban, the CMA has partnered with the South African National Taxi Council (SANTACO) to provide runner shuttle buses on the day. Runners are urged to make use of the shuttle service and tickets are now available online at Ticketpro and a host of retail outlets.
CMA Race Director, Rowyn James says, "We hope to have many runners making use of the bus service so as to help alleviate the amount of traffic making its way to Pietermaritzburg from Durban on race morning with all the roadworks on the go."
Wristbands will be issued to all bus ticket holders. The wristband will need to be worn in order to gain access to the bus either going to the start or back to PMB from the finish. Online ticket holders will be required to collect their wristbands at Registration at the bus ticket stand. No runner will be allowed onto the bus without the wristband.
Bus tickets back to Pietermaritzburg from the finish after the race are also available for purchase.
Buses will depart from the Durban Exhibition Centre in Durban from 2:30am onwards. Runners can opt for a one-way ticket at R130 or a return ticket at R250.
To purchase a ticket, please CLICK HERE
Runners can also purchase tickets at the following outlets:
• Spar stores
• Sasol fuel stations
• Hollywoodbets
• Cambridge Food
• Choppies
• Rhino Cash and Carry
• Power Fashion