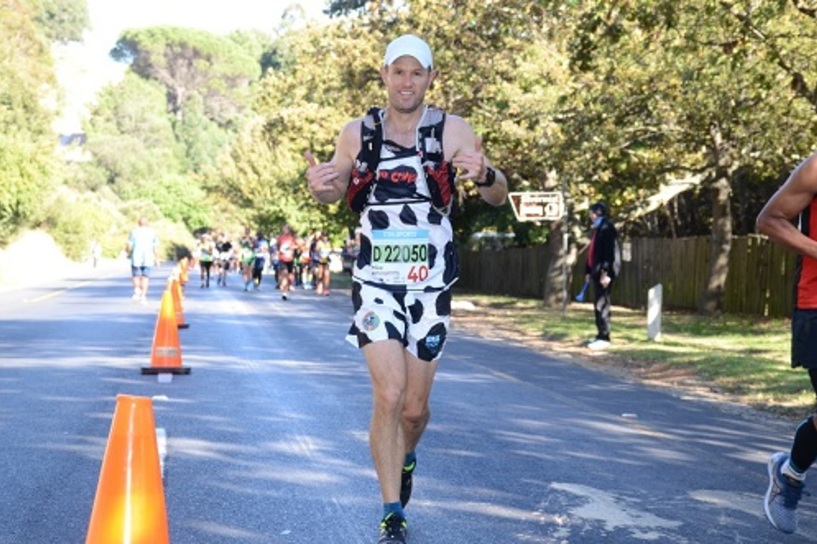 AMABEADIBEADI CHARITY DRIVE AUGUST 2022
Ultrarunner Sewell gears up to run 1800km to the Comrades for CHOC
While thousands of runners prepare for the 2022 Comrades Marathon on Sunday, 28 August, a solitary runner dressed in the distinctive running kit of The Cows will leave Cape Town nineteen days before the world's biggest ultra-marathon in an attempt to complete twenty Comrades Marathons back-to-back as part of his quest to raise money for the Childhood Cancer Foundation.
44 year old Johannesburg adventurer Mike Sewell is aiming to raise R1-million by completing the staggering feat, and in the process complete the arduous 1800km challenge that he and five others failed to get right in 2018.
Sewell got further than any of the other runners on what they dubbed The Long Road to Comrades, managing to complete a total of 1100km over 20 days.
Now, inspired by the chance to make a real impact on the lives of children confronting cancer, he wants to try again, and says he is wiser than he was four years ago.
"I had seen The Cows at other events and they intrigued me," said Sewell. "On connecting with them it just all felt right. Great energy, great community and of course – a great cause. I'll be treating the charity element as a second parallel project - as big as the run."
Sewell is adamant that the monumental challenge of doing twenty consecutive Comrades' can be achieved, and he wants to remedy the disappointment of 2018.
"Mostly The Long Road to Comrades V2.0 is about unfinished business," he said. "I've always challenged myself with ever growing challenges and this one still needs to be conquered. I love testing my limits, both physically and mentally and I relish in the adventure of a task this big.
"The best part about a second attempt is the benefit of experience. And with such a big challenge, that experience is invaluable. There are a few very significant changes that I have made from the first attempt.
"Firstly, quitting is not an option. It was too easy to get in the support van last time. This won't be an option this year. I will just have to suck it up.
"Then, keep moving forward! We spent too much time in 2018 not moving forward. This time, only lunch and CHOC house visits will be static stops. All other non-running events in the day must be "rolling".
"This run will be a solo effort. The task is so big that it needs the focused effort of a team to get one person over the line. I hope to eliminate additional dynamics and challenges that come with multiple runners.
"Then I have fine-tuned everything for success," he added. "From flattening the route to adding a masseuse to an acute focus on nutrition and even being aware of the road camber.
"But vitally the charity element gives me an additional reason if not THE reason to finish this thing!" he concluded.
Anyone keen to support Sewell on The Long Road to Comrades V2.0 can make a contribution via his fundraising account HERE
More information about The Cows can be found at www.thecows.co.za